1ST SUNDAY OF ADVENT
December 2 & December 3, 2023
REFLECTION ON TODAY'S READING
Jesus said to his disciples: "Be watchful! Be alert! You do not know when the time will come." Mark 13:33
To which time is our Lord referring? He is referring to the time of His coming. But it must be understood that even though He came to us once in the flesh long ago, and though He will return again in the flesh to judge the living and the dead at the end of time, He never ceases to come to us day and night by the transforming gift of grace. Are you attentive to this coming? Or do you miss out on the countless blessings of God's grace that He wants to bestow upon you every day, all day? .
Under the directive from the Diocese of Honolulu
St. Joseph Church has set up an egiving program to allow parishioners and guests an easier way to give. It will also allow the donors to: 1. Give from anywhere using a computer, tablet, or smartphone. 2. No need to find a check or stop by the ATM. 3. Use your Checking/Savings Account or your Debit/Credit Card. 4. Schedule gifts to occur automatically. Click on the give now link or on your phone using my parish app. "All must give as they are able, according to the blessings given to them by the Lord your God." Deuteronomy 16:17
Online donations may be made at any time from the comfort of your own home or any place with internet access. Online donations are credited to your tax statement for the end of the year (except when made anonymously)and you can change your account preferences and donation amounts at any time.
New documents from the Vatican:
Saint Joseph Church Makawao - Bulletin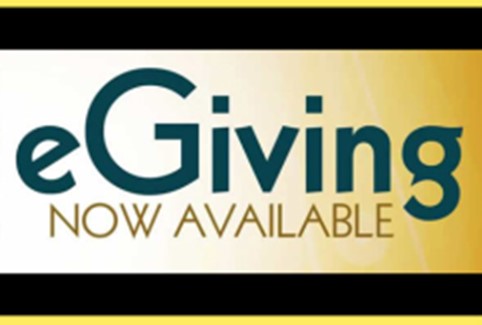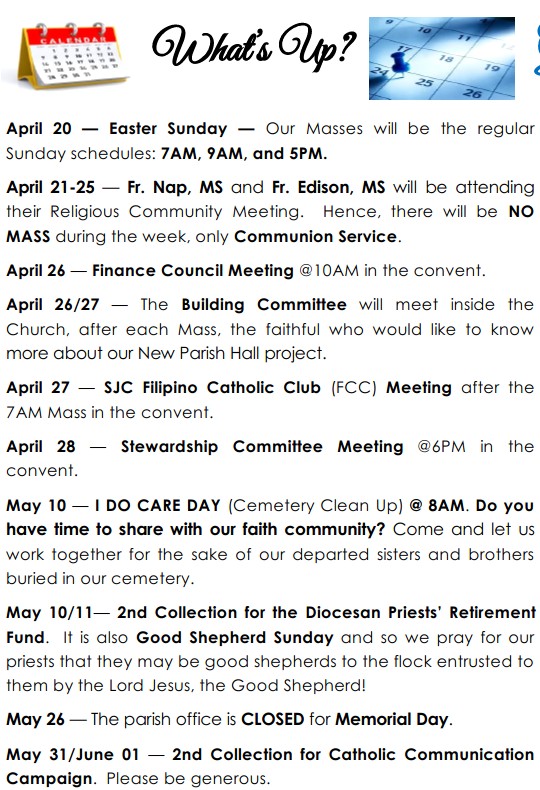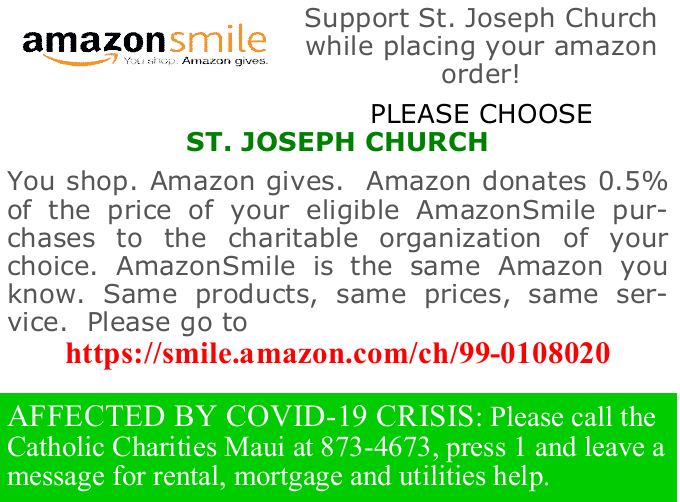 Dear Brothers and Sisters in Christ,
Today we begin the season of Advent, which marks the start of a new liturgical year for the Church. The readings for Sunday Mass are arranged on a three-year cycle. Each year features a different Gospel—Matthew, Mark, or Luke. Readings from the Gospel of John are interspersed throughout all three years. With this year's first Sunday of Advent, we begin Cycle B of the Lectionary, which focuses our attention on the Gospel of Mark. This week and next week, our readings from Mark's Gospel present two important Advent themes: the Lord's return at the end of time and John the Baptist's preparation for Jesus.
Today's Gospel is taken from the end of Mark's Gospel, the chapter that immediately precedes Mark's account of Jesus' Passion. Having been questioned repeatedly by the scribes and the Pharisees, Jesus is now questioned by his disciples—Peter, James, John, and Andrew—who want details about his prediction of the destruction of the Temple. Jesus answers with many warnings about the difficulties that the disciples will face.
Today's passage comes at the conclusion of Jesus' warnings to his disciples. Jesus emphasizes the need for watchfulness. The Son of Man will come without warning; only the Father knows the exact hour. The disciples must not be caught unprepared when this time comes.
Scholars believe that Mark's Gospel was written around the time of the destruction of Jerusalem by the Romans in A.D. 70. Mark's audience consisted of Christians who were living in difficult social and political times, times of conflict. They were likely beginning to face persecution as followers of Jesus. In this difficult time, it helped to recall that Jesus had foretold of such difficulties. Early Christian communities took courage from Jesus' warning to remain alert and watchful, and they found in his words a way to persevere through suffering.
Today's Gospel reminds us that Advent is about more than our preparation for the Church's celebration of Christ's birth at Christmas. Advent is also about preparing ourselves for Christ's return in glory at the end of time. Like the disciples and the faithful in Mark's community, we must also stay alert and watchful. Our faithfulness to God, through the good times as well as the difficult times, shows us to be ready for the coming of the Son of Man.
LIVESTEAMING MASS
For those of you that are not physically able to attend mass you may go to the Catholic Herald and see the listings of parishes that live streams or go to the Cathedral Basilica of Our Lady of Peace, downtown Honolulu will continue to live stream on Sundays at 10 AM, Weekdays at 12 PM, Saturdays at 12 PM and 5 PM https://www.cathedralofourladyofpeace.com/LiveStream.html .
A STEWARDSHIP MOMENT
In today's Gospel, Saint Matthew offers a compelling vision of the end-time, when the people of all nations are brought before the Lord to give an account of their lives and actions. Interestingly, the sheep, the righteous ones, are rewarded for having acted with love and compassion without having recognized the face of Christ in others. Good stewards recognize those in need of their care as gifts from God. They know that they are instruments of Christ's active, loving presence in the world. How will we treat others this week: our family members, neighbors, customers, strangers? What accounting will we make to the Lord for their care?
EUCHARISTIC ADORATION OF THE BLESSED SACRAMENT
First Thursday of Every Month. Come anytime between 5-6:30 pm.. All are Welcome!
THRIFT SHOP HOURS OF OPERATION
Effective May 2021, the Thrift Store hours of operation became every Tuesday from 8 a.m. - 12 noon.
SOCIAL OUTREACH MINISTRY
The Food Pantry holds a drive by distribution, every third Thursday from 8-9 a.m. or while supply lasts. To qualify simply signup as you drive up. The Food Pantry is also accepting non-perishables. Thank you!