TWENTY - SEVENTH SUNDAY IN ORDINARY TIME
October 1 & 2, 2022
REFLECTION ON TODAY'S READING
Faith is a gracious gift from God. It can neither be earned nor bought, only responded to with works of love and service. A vibrant faith can make us strong, loving, and wise, confident that God will guard us from all harm. He is the Rock or our salvation.
Under the directive from the Diocese of Honolulu
St. Joseph Church has set up an egiving program to allow parishioners and guests an easier way to give. It will also allow the donors to: 1. Give from anywhere using a computer, tablet, or smartphone. 2. No need to find a check or stop by the ATM. 3. Use your Checking/Savings Account or your Debit/Credit Card. 4. Schedule gifts to occur automatically. Click on the give now link or on your phone using my parish app. "All must give as they are able, according to the blessings given to them by the Lord your God." Deuteronomy 16:17
Online donations may be made at any time from the comfort of your own home or any place with internet access. Online donations are credited to your tax statement for the end of the year (except when made anonymously)and you can change your account preferences and donation amounts at any time.
New documents from the Vatican: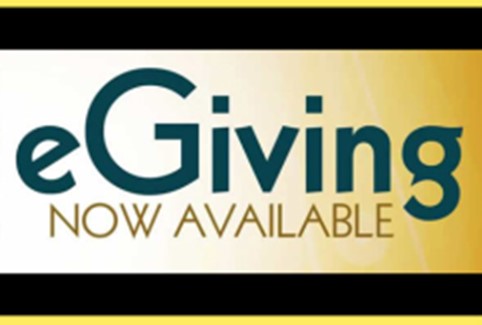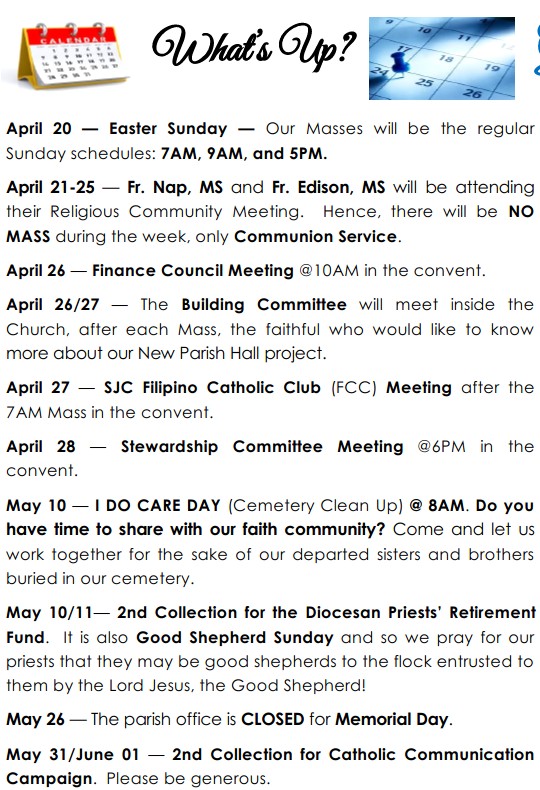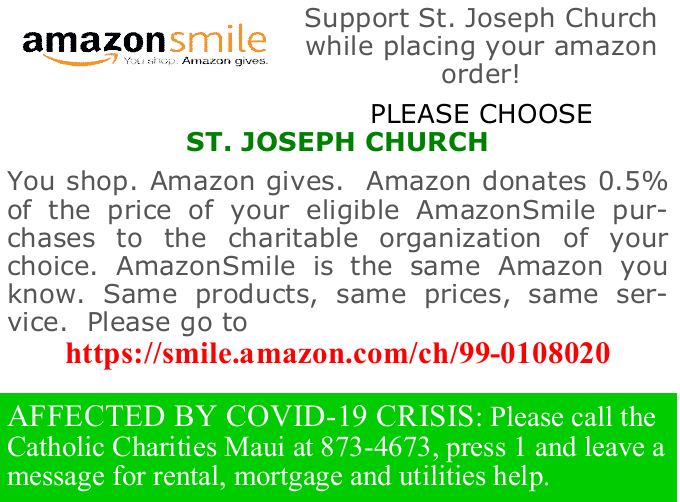 Lord, Increase Our Faith!
Lord, Increase Our Faith!
How strong is your faith in God and how can you grow in it? Faith is not something vague, uncertain, undefineable, or something which requires a leap of the imagination or worse, some kind of blind allegiance. In fact, it is quite the opposite. Faith is a response of trust and belief in what is reliable, truthful, certain, and real. To have faith is to believe and trust in someone or something. We believe in the power of electricity even though we can't visibly see it with the naked eye. We know we can tap into that power and use it to do things we could not do by our own human power. Faith in God works in a similar way. When God reveals himself to us he gives us the "assurance" and "conviction" that his power and presence and glory is just as real, and even more real, than our experience of the natural physical world around us (Letter to the Hebrews 11:1-3). Things around us change, but God never changes. He is constant, ever true to his word, and always faithful to his promises (Psalm 145:13, Hebrews 10:23). That is why we can have the greatest assurance of his unconditional love for us and why we can hope with utter conviction that he will give us everything he has promised. Jesus is God's visible proof that his word is reliable and true - his love is unfailing and unconditional - and his power is immeasurably great and unlimited.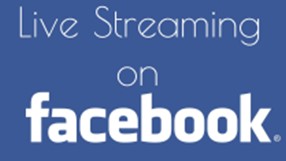 A STEWARDSHIP MOMENT
IT IS NOT TECHNOLOGY THAT DETERMINES WHETHER OR NOT COMMUNICATION IS AUTHENTIC, BUT RATHER THE HUMAN HEART AND OUR CAPACITY TO use wisely, THE MEANS AT OUR DISPOSAL." -POPE FRANCIS
EUCHARISTIC ADORATION OF THE BLESSED SACRAMENT
First Thursday of Every Month. Come anytime between 5-6:30 pm.. All are Welcome!
THRIFT SHOP NEW HOURS OF OPERATION
Effective May 2021, the Thrift Store new hours of operation will be every Tuesday from 8 a.m. - 12 noon and on the 2nd & 4th Thursday of the month from 8 a.m. - 12 noon.
SOCIAL OUTREACH MINISTRY
The Food Pantry holds a drive by distribution, every third Thursday from 8-9 a.m. or while supply lasts. To qualify simply signup as you drive up. The Food Pantry is also accepting non-perishables. Thank you!